Christmas Lights in Madrid 2023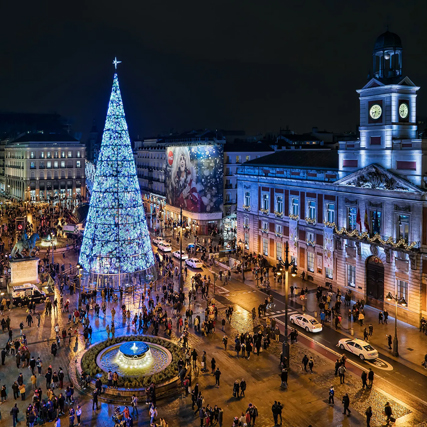 Christmas is a magical time when cities all over the world are filled with lights and decorations, but few places do it with as much elegance and splendor as Madrid. The capital of Spain transforms into a fairy tale during the holiday season, and the Christmas lights play a fundamental role in this metamorphosis. In this article, we will explore the wonderful Christmas lights of Madrid in 2023 and how they make the city shine with a special kind of magic.
Where to See Christmas Lights in Madrid?
Gran Vía
A Dazzling Light Spectacle Madrid's Gran Vía is the main stage for Christmas lighting. In 2023, this iconic avenue turns into a true luminous paradise. The lights on Gran Vía dazzle both residents and visitors alike with a combination of LED lights and decorations inspired by the city's architecture. Strolling down Gran Vía during Christmas is an unforgettable experience that immerses you in the festive spirit.
Sleep in the middle of Gran Vía with a view of the Christmas lights
If you want to sleep in the middle of Gran Via watching the Christmas lights,
SmartRental offers you our network of luxury aparthotels in the heart of Madrid's Gran Vía: SmartRental Gran Vía Centric and SmartRental Gran Vía Capital or Akeah Hotel. We also have a new SmartRental Reina Sofia building.
Do you need more information? Contact us at:
Or book online here
Puerta del Sol
The Emblematic Tree One of the most iconic places in Madrid, Puerta del Sol, hosts a gigantic Christmas tree that becomes the epicenter of the Christmas lighting. The decoration of this tree is spectacular and lights up at nightfall, attracting crowds of people who gather to enjoy the festive atmosphere. Puerta del Sol is also famous for its clock that marks the arrival of the New Year and the traditional New Year's Eve countdown.
Plaza Mayor
Magic and Tradition at a Christmas Market Madrid's Plaza Mayor transforms into a real fairy tale during Christmas. The lighting and decorations create a magical atmosphere surrounding the Christmas market set up there. Visitors can enjoy seasonal products, unique gifts, and delicious holiday treats. Plaza Mayor is a place where tradition and magic come together to celebrate Christmas.
Districts and Neighborhoods of Madrid
Luminous Corners The magic of Christmas extends throughout the city, reaching various districts and neighborhoods of Madrid. Areas like Malasaña, Chueca, and La Latina are adorned with unique lights and decorations, creating charming corners that transport you to a dream world. Getting lost in these illuminated streets is a unique experience that reveals the diversity and charm of Christmas in Madrid.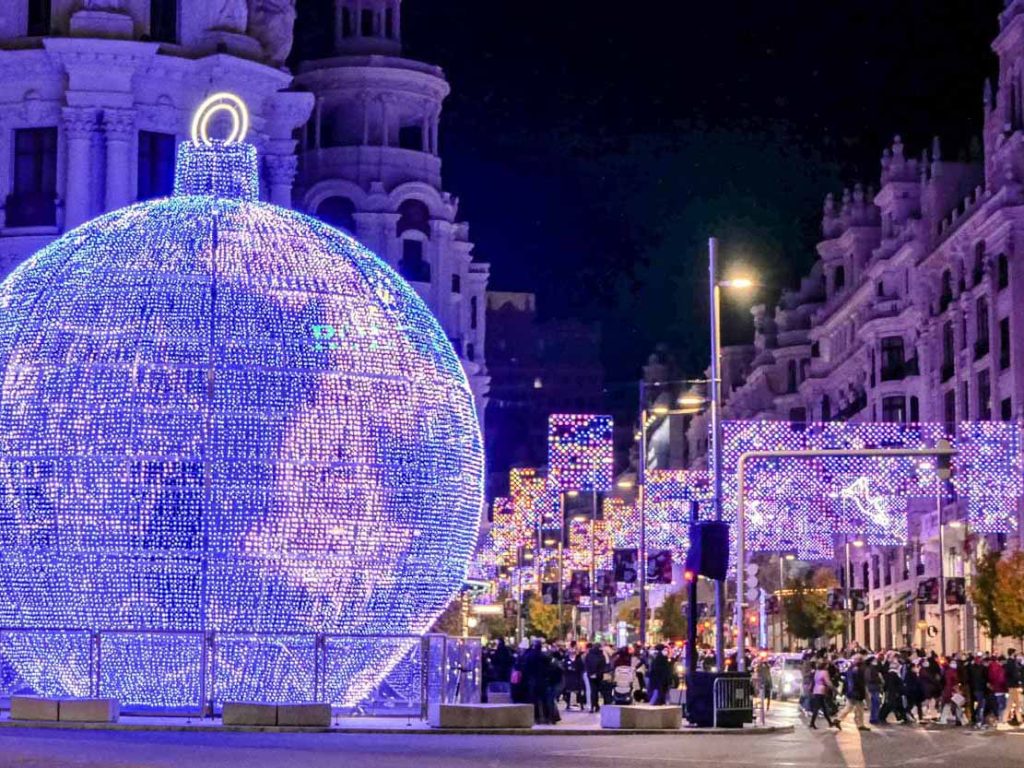 Plaza de Cibeles and Puerta de Alcalá
Extend your journey from Calle Alcalá to Plaza de Cibeles and Puerta de Alcalá. Take in the iconic fountain, the façade of City Hall, and the Christmas-adorned trees, an experience that will be etched in your memory.
Barrio de Salamanca
Next, venture into the streets of the Salamanca neighborhood with its splendid lighting. Calle Serrano, in particular, shines brightly. Don't miss this year's Christmas decorations on Calle Jorge Juan, designed by Samantha Vallejo-Nágera, a chef and Masterchef judge.
Plaza de Colón
From there, head to Plaza de Colón, home to a grand 3D nativity scene that reaches an impressive height of 10 meters, featuring the silhouettes of the Holy Family.
Paseo del Prado
Descend along Paseo de Recoletos, where the lights elegantly display the Spanish flag, and continue along Paseo del Prado. Between Cibeles and Neptuno, one of the main attractions is a colossal Menina, standing 10 meters tall and 7.5 meters wide, adorned with 37,000 lights.
The Botanical Garden On Paseo del Prado
The Madrid Botanical Garden is another essential stop to enjoy the Christmas lights. Experience their "Naturaleza Encendida" (Nature Aflame) display, which bathes plants and trees in magic and color.
Puerta del Sol
From there, make your way to the iconic Puerta del Sol Square, home to a massive conical fir tree reaching 35 meters in height and 14 meters in diameter. Its lights, in golden and white hues, will be lit for the first time on December 4th.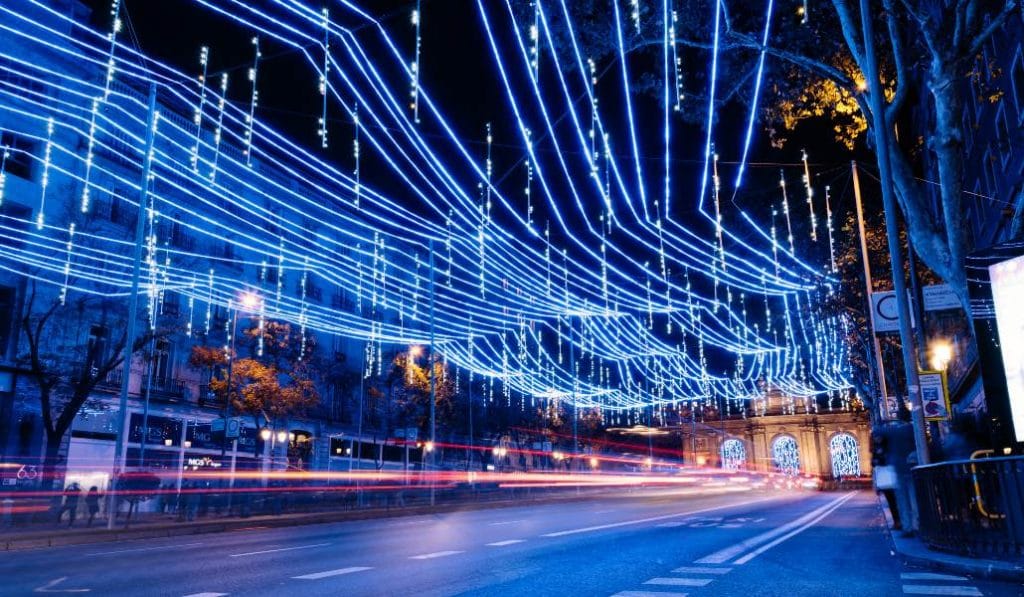 Calle Mayor, Plaza Mayor, and Plaza de Oriente
The illuminated entrances to Plaza Mayor, Christmas decorations on Calle Mayor, the surroundings of the Royal Palace, and Plaza de Oriente are a great conclusion to this tour of Madrid's Christmas lights.
An Unforgettable Show The Christmas lights in Madrid in 2023 are a true wonder that you shouldn't miss. The city lights up with dazzling beauty, creating a festive and magical atmosphere. Whether you choose to stroll along Gran Vía, visit Puerta del Sol, or explore the various decorated districts and neighborhoods, you'll be surrounded by the magic of Christmas. Madrid dresses in light and color to celebrate the holiday season, and we invite you to join in this festive celebration. Happy holidays!
When Are the Christmas Lights Turned On in Madrid for 2023-2024?
They are turned on Thursday, November 23rd, at 7:00 PM with an event in the renovated Puerta del Sol and will shine until January 6/7. Lighting Schedule 2022-2023
From Sunday to Thursday: 6:00 PM to midnight (except on Thursday, November 24th, from 7:00 PM)
Fridays and Saturdays: 6:00 PM to 1:00 AM
December 4th, 5th, 6th, 7th, and 8th: 6:00 PM to 1:00 AM
December 24th and January 5th: 6:00 PM to 3:00 AM
December 31st: 6:00 PM to 6:00 AM.
What to See in Madrid in December 2023?
Madrid during the holiday season transforms into a dreamlike place, offering countless family activities. From strolling through the Christmas market at Plaza Mayor to visiting the traditional nativity scene or ice skating at Matadero Madrid, the city offers a variety of activities. However, among all of these, the contemplation of Christmas lights holds a special place. Walking through the streets of the capital under the glow of Christmas lights is a magical experience that both young and old must not miss.
The Best Christmas Lights for 2023 This year, the City of Madrid, through the Department of Works and Facilities, has introduced more than ten innovations in Christmas decoration, which extends to over 230 locations in the city's 21 districts. To carry out this project, the City Government approved a budget of 4.3 million euros this morning, representing a 7.5% increase compared to 2022. This increase is due to a rise in the cost of materials. Continuing the tradition of previous years, proposals from renowned designers and experts have been considered, and new collaborations have been added thanks to the agreement between the City Government and the Association of Fashion Creators of Spain (ACME). Together, the city's streets are adorned with 6,600 strings of lights, 115 cherry trees, and eleven large luminous trees, along with other decorative motifs. The figurative nativity scenes at the historic city gates, such as Alcalá, Toledo, or San Vicente, as well as the entrances to Plaza Mayor, will remain a tradition. Additionally, both locals and visitors can enjoy the impressive luminous "menina" on Paseo del Prado, the giant nativity scene at Colón, or the already iconic Christmas ball, which will change its location this year.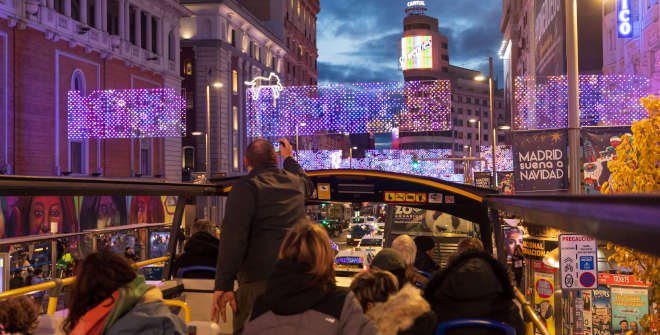 Naviluz 2022-2023
Once again, the Christmas bus, known as Naviluz, arrives to traverse the city's most iconic streets and allow you to enjoy the beautiful Christmas lights in a unique way. During the 2022-2023 holiday season, the special Naviluz service commenced on November 25 and extended until January 6, 2023, with extensive schedules. Tickets for Naviluz will be available on the official website.
Naviluz 2022-2023 Details Route and Schedule
The general ticket costs 7 euros, children under seven years old travel for free, and there is a reduced fare of three euros for individuals aged 65 and children between seven and eleven years old.
The journey lasts approximately 50 minutes, with intervals of five to ten minutes between one bus and the next. The route remains the same unless unforeseen circumstances arise, for which an alternative itinerary has been established. The route is as follows: departure from Serrano Street, passing through Puerta de Alcalá, Alcalá Street, Cibeles Square, Alcalá Street, Sevilla Street, Carrera de San Jerónimo, Cortes Square, Neptuno Square, Paseo del Prado, Carlos V Roundabout (known as Atocha Square), Paseo del Prado, Cibeles, Alcalá, Puerta de Alcalá, Velázquez Street, José Ortega y Gasset Street, and back to Serrano Street.
It is important to note that on December 24 and 31, as well as on January 5, the service will not be available. Departure Times: The service starts at 6:00 PM with additional departures at 6:05, 6:10, 6:15, 6:20, 6:30, 6:40, 6:50; 7:00, 7:05, 7:10, 7:15, 7:20, 7:30, 7:40, 7:50; 8:00, 8:05, 8:10, 8:15; 8:20, 8:30, 8:40, 8:50; 9:00, 9:05, 9:10, 9:15, 9:20, 9:30, 9:40, 9:50; 10:00, 10:05, 10:10, 10:15, 10:20, 10:30, 10:40, and 10:50 PM.