To eat! VIII Ruta del Cocido Madrileño
Although it has started on February 14, a very important appointment, you still have the opportunity to enjoy this typical dish from Madrid, we know that with only the idea your mouth is watering, but … let's go into more detail before to sink the tooth!
8ª Ruta del Cocido Madrileño
We will enjoy a stew served in "3 vuelcos", the traditional way of taking it to your mouth (soup, chickpeas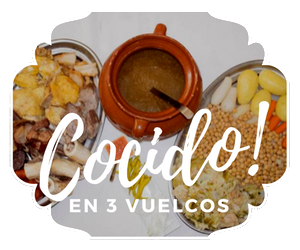 and vegetables, and meats).
We know that we still can not go in short sleeves, although we are looking forward to it, so nothing better than to warm up with this dish and combat the cold, until 41 restaurants of the Community of Madrid offer this dish typical, do you dare to accept the challenge ?. For the inauguration the Parador de Turismo de Chinchón.
Although the route includes restaurants throughout the community as in Alcalá de Henares, Alpedrete … and also Segovia and Toledo, if we do not want to leave the M30, we have 13 different options within the city to decide which is the best cocido de Madrid, we have much more information on the event website.
If you found few restaurants in the previous edition this year add 8 different restaurants, five in Madrid Capital: La Clave , Sagaz , La Rayúa , La Pesquera and Three Rollovers from Harvard .
Also on its website you can enjoy the genuine recipe of cocido madrileño so that you at home you repeat it to your loved ones or give them a whim.
More information
Where: Madrid city, check out the restaurants here
When: From February 14 to March 31
Price: From 19 euros
Are you looking for accommodation in Madrid and enjoy the cocido madrileño?
If you are looking for a place to stay to enjoy cocido madrileño, we recommend the apartments of SmartRental Puerta del Sol or SmartRental Chueca II .