Things to see in Las Palmas de Gran Canaria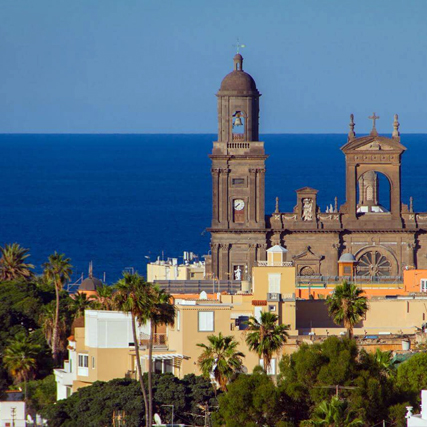 Gran Canaria is a true paradise that offers a wide variety of tourist attractions, unique experiences, and a rich local gastronomy. From beautiful beaches to impressive historical monuments, there are many things to see in Las Palmas de Gran Canaria, the capital city of the island.
In this article we tell you everything this wonderful island has to offer. Check it out!
Must-see places in Las Palmas de Gran Canaria
Our tour of the best things to see in Las Palmas de Gran Canaria begins at the Cathedral of Santa Ana, an architectural jewel overlooking the old town. With its mixture of Gothic, Renaissance, and neoclassical styles, this is undoubtedly the most important monument in the city.
Another must-see is the Casa de Colón, a fascinating museum where you can learn about the maritime history of the Canary Islands and view historical artifacts. The beautiful colonial-style building served as accommodation for Christopher Columbus when he stopped over on his voyages to America, hence its name.
A must-do in Las Palmas is to relax at Playa de las Canteras. This beautiful urban beach is perfect for sunbathing, swimming or even surfing. And after a day in the sun, there's nothing better than a stroll through the Viera y Clavijo Botanical Garden. This green oasis is home to an impressive variety of Canarian flora.
In the Triana neighborhood, you will find the lively Plaza de Cairasco and a theater dedicated to the writer Benito Pérez Galdós. The Calle Mayor de Triana is undoubtedly one of the most beautiful avenues in the city, lined with cafes for a drink.
Finally, we will explore the Vegueta neighborhood. This charming old quarter is full of cobblestone streets, colorful houses, and quiet squares. Don't forget to try some local tapas in one of the many bars and restaurants in the neighborhood.
Other things to see and do in Las Palmas de Gran Canaria
Beyond the emblematic places, there are endless activities and unique experiences in Las Palmas de Gran Canaria capital. If you are a sports lover or have always wanted to ride the waves, you can't miss the opportunity to go surfing at Las Canteras Beach.
Don't miss a visit to the Vegueta Market, where you can sample fresh local produce and enjoy the local hustle and bustle. Finally, if you are looking for a more relaxed experience, we recommend a stroll through the Jardín Canario (Canary Garden) to enjoy the native flora in a peaceful atmosphere. As you can see, Las Palmas de Gran Canaria offers an impressive variety of activities for all tastes and ages.
Local gastronomy in Las Palmas de Gran Canaria
If there is something you cannot miss during your visit to Las Palmas de Gran Canaria, it is the opportunity to taste the rich and varied local gastronomy.
The city offers many restaurants and bars where you can taste traditional dishes such as papas arrugadas con mojo, a dish of boiled potatoes with skin accompanied by a spicy sauce based on red peppers, or gofio escaldado, a type of thick cream made with toasted flour. We can't forget to mention the delicious fresh seafood, especially the local limpets and shrimp.
To top off your culinary experience, nothing better than tasting the island's famous cheeses, such as queso de flor. If you are a wine lover, we recommend you try the local wines, especially the dry white wines made from the Malvasia Volcánica grape variety.
The best accommodation in Las Palmas de Gran Canaria
After a day full of adventures and discoveries in Las Palmas, nothing better than coming back to a cozy and comfortable place to relax.
The SmartRental apartments are the perfect choice for your stay in Las Palmas de Gran Canaria. Strategically located, these rental apartments in Las Palmas de Gran Canaria allow you to have easy access to the main points of interest of the city. They also offer a wide variety of options to suit your needs, whether you are alone, as a couple or as a family.
Each apartment is equipped with all the amenities to ensure a comfortable stay: free Wi-Fi, fully equipped kitchen, spacious and bright spaces, luggage storage and airport transfer if you need it.
Book your stay at SmartRental!