Tapapiés 2017. Seventh edition of the tapas route
Are you ready to enjoy the most appetizing tapas in Madrid?
There are only a few days left for a new edition of Tapapiés 2017 Tapas and Multicultural Route of the Tapa and Music in Lavapiés, the event that brings together the best bars in the neighborhood of Lavapiés around 1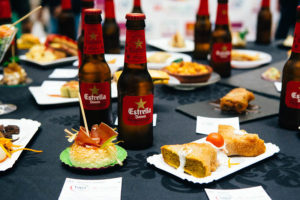 objective, to discover new tastes and textures in a simple way , through the Tapas.
¿Tapapiés 2017, what is it??
A gastronomic experience. Not only full of fun in the best company, but an initiative full of activities such as concerts in the streets and local neighborhood of Madrid Lavapies. A multicultural meeting point that causes part of that mestizaje to translate into a journey through the most exotic smells and flavors of countries like Japan, Mexico, India ..
More than 80 bars and restaurants take part in this gastronomic route of the district of Lavapiés. We love this type of activity, where you can organize your own routes through the bars, trying different creations. Evaluating these and entering different prize draws. In addition, in this event are added gourmet stores of the markets of San Fernando and Antón Martín.
More than 60 performances will fill the streets with rhythms as varied as rock'n roll, soul, swing, jazz and other activities focused on the little ones and family like theater works and special activities.
To be aware of everything that happens in Tapapiés 2017, they put at your disposal a mobile app where you can see all the tapas and videos of the artists that those days will occupy the street waiting for your presence.
More info about Tapapiés 2017
When: October 19th through October 29th
Price: 1,5€ per tapa, so cheap!
More Information http://tapapies.com/home/ consult the previous winners of this tapas contest.