New Year's Eve in Madrid | SmartRental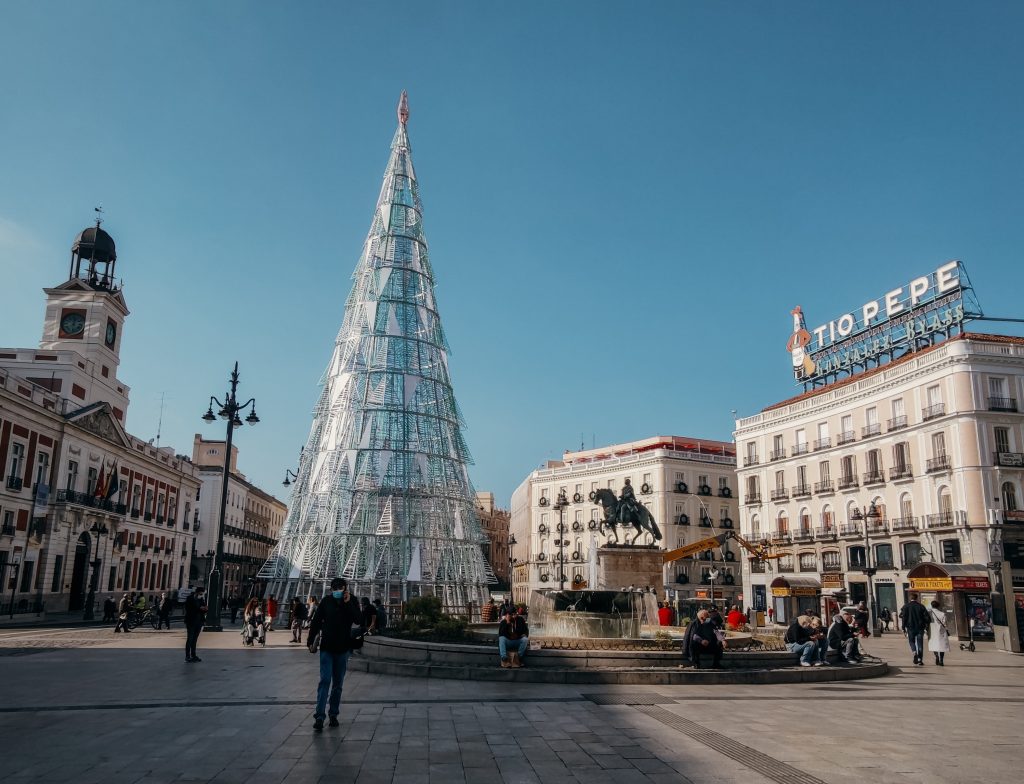 It's almost time to say goodbye to the year and it's time to start planning your New Year's Eve celebration. New Year's Eve in Madrid is a great party that does not disappoint anyone as there are options for all tastes, so you are sure to find the perfect plan for this special date. Whether with family, friends or as a couple, if you don't know what to do in Madrid on New Year's Eve here are some ideas, you'll have a great time!
How to celebrate New Year's Eve in Madrid?
Run the San Silvestre race
You can end the year fulfilling your resolutions to be more active by participating in the San Silvestre-Vallecana race on 31 December, the last race of 2022 in Madrid. This race consists of 10 kilometres that you can enjoy under the Christmas lights of Madrid. Last year 40,000 runners took part, so come and be one of them!
This year, the race will be held at different times starting at 5pm to make the race more agile. The route, as always, is very fast and favourable as 8 of the 10 kilometres are slightly downhill. You can register for the San Silvestre race here.
New Year Countdown in Puerta del Sol
There is no New Year's Eve more typical in Madrid than the one celebrated in Puerta del Sol, where thousands of locals and tourists gather before midnight to eat the 12 grapes and say goodbye to the year. Although it is optional, tradition dictates that on New Year's Eve you should go to Sol with accessories and costumes, as well as sparkling wine to toast. Remember that eating your grapes on time means a year of good luck.
Dance the night away
In Madrid there are many clubs where you can go dancing on New Year's Eve. Teatro Kapital, Joy Eslava, Teatro Barceló and other top clubs have their own New Year's Eve parties, with reggaeton, techno… there is music for all tastes to spend an unforgettable night.
Starting the year dancing is the perfect plan after enjoying a New Year's Eve dinner with friends or family. The celebration continues in the city's best nightclubs, but make sure you buy your tickets in advance as they tend to sell out at this time of year.
Churros and chocolate in San Ginés
A few metres from Puerta del Sol you'll find what is indisputably the best place for hot chocolate in Madrid, San Ginés. Here you can expect some queues and, as a reward, some delicious churros with hot chocolate to enter the new year in the sweetest way and recharge your batteries before the family reunions on January 1st. This is one of the best places for New Year's Eve in Madrid with the little ones or with a group of friends.
Dining in the centre of Madrid in New Year's Eve
If you feel like getting out of the house and celebrating New Year's Eve in a good restaurant, we have exactly what you are looking for in El·la Sky Bar. It's a fantastic restaurant to spend New Year's Eve in Madrid.
El·la Sky Bar offers one of the best menus for New Year's Eve dinner in Madrid. Let's start with a delicious appetizer of Spanish ham and cheese followed by several starters including oysters, lobster cream and beef carpaccio. For the main course, you can choose between sole or sirloin steak, and for dessert, sweet toast with nougat and truffles awaits you. All this accompanied by champagne, wine, and party. If you come with kids, we have a children's menu suitable for the little ones.
On the 1st, you can book a revitalising New Year's meal, to start the year in a healthy and nutritious way.
Check out here all the Christmas menus at El·la Sky Bar. We also have a Christmas menu for the 25th of December and a Reyes menu on the 6th of January. Book your table online!