Madrid tapas tour | SmartRental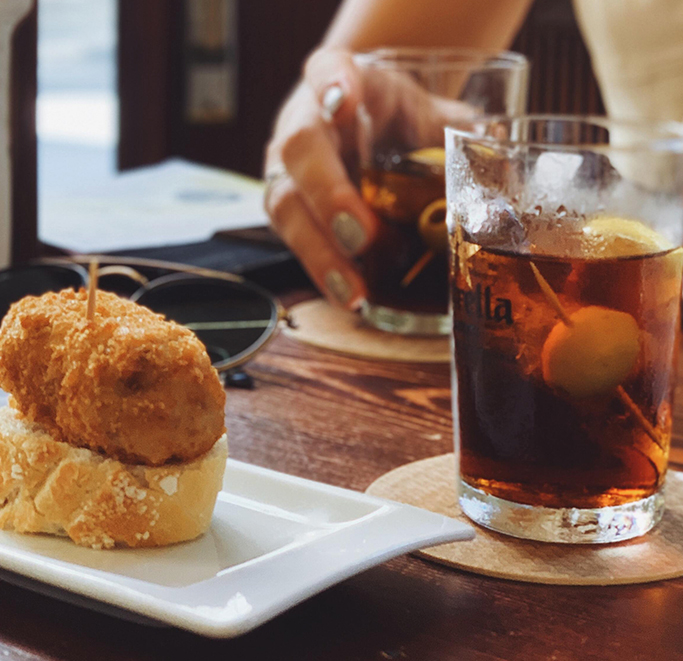 The best tapas tour in Madrid
Going out for tapas in Madrid is one of the must-do activities if you are visiting the Spanish capital. There's no better way to feel like a real madrileño than to explore the city's bars, bodegas, and restaurants in search of the finest tapas and dishes.
If you're eager to try the city's culinary delights over a good beer, then take note! Let us suggest an unforgettable tapas route around Madrid that you can start from any of our flats to rent in Madrid center. Stay with us and venture out for a few days of tapas in these iconic establishments.
La Latina, the quintessential tapas district
Our route begins in the well-known street of Cava Baja,in La Latina neighborhood, undoubtedly one of the best tapas areas in Madrid. A good first stop is Los Huevos de Lucio, related to the emblematic Casa Lucio, where you can try the most incredible huevos estrellados (the Spanish version of scrambled eggs) in the city. You can't miss the obligatory cocido madrileño stew at La Posada del León and the battered cod at Casa Revuelta, probably the most famous in Madrid.
To finish off your gastronomic experience in La Latina, head to Mercado de San Miguel, where you can take a tour of Spanish gastronomy through its modern tapas stalls while strolling through a historic 100-year-old building.
Tapas in central Madrid
From La Latina we head to Malasaña, Madrid's hipster neighborhood, where you can indulge in the juicy croquetas of Casa Julio, a tavern once recommended by the band U2.
Just a stone's throw away is Bodega Artosa, a must if you want to try the best pincho de tortilla in Madrid. Also, worth checking out is the Mercado de Ildefonso on Calle Fuencarral, one of the most innovative gastronomic spaces in the city, where you can enjoy quality tapas.
Crossing Gran Vía on the way to Sol, we come across Casa Labra, a tavern known for its cod, especially their pavías and croquettes they make from it. The next stop is the excellent Celso y Manolo in Chueca, where they make a finger-licking ensaladilla rusa, and we can also stop off at La Carmencita, one of the oldest taverns in the capital, where you can try the true "castiza" cuisine.
The taverns of Huertas and Las Letras
The juicy prawns of La Casa del Abuelo and the classic callos and snails of Casa Alberto, a historic tavern from 1827, await you in Huertas and Barrio de las Letras. On the famous Álvarez Gato Street, immortalized by Valle-Inclán in Luces de Bohemia, hides Callejón del Gato, a place that prides itself on having the most authentic bravas in Madrid.
And if you're looking to end your tapas route in Madrid on a high note, stop for a snack at La Casa de las Torrijas, one of the oldest establishments in the capital, where you'll be able to eat the simple but delicious torrijas.
Stay at SmartRental and discover the best tapas in Madrid
At SmartRental you will find fully equipped rental flats and studios in the best areas for tapas in Madrid. From our holiday flats in Gran Vía, Sol, Chueca and La Latina you can explore the wonders of Madrid's gastronomy and visit the most famous tapas places in the capital. Come alone, as a couple or with your family; we have options for all types of guests.
Don't wait any longer, book your stay with SmartRental and prepare an unforgettable trip to Madrid!