MadCool Festival Madrid 2023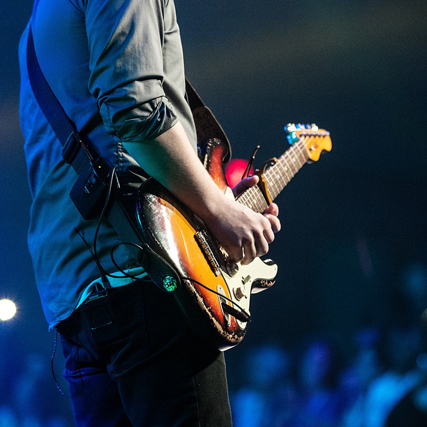 Mad Cool Festival stands out not only for its incredible music, but also for the complete experience it offers attendees. The festival site will feature multiple stages, allowing several artists to perform simultaneously and offering options for all tastes.
In addition to live music, the festival will feature a wide selection of dining options. Attendees will be able to enjoy a variety of delicious local and international dishes, from fast food to vegetarian and vegan options. There will also be a wide range of drinks on offer to keep everyone hydrated and refreshed throughout the event.
For those looking to rest and relax, Mad Cool Festival will offer rest areas and shaded areas. These spaces will be ideal for recharging and socialising with other music lovers before heading back to the main stages.
Where will Mad Cool Festival 2023 be?
Mad Cool Festival 2023 will have a new venue: the new Ciudad de la Música de Villaverde, in which, in addition to the land to host the festival, the aim is to establish a nerve centre dedicated to the music industry. The Ciudad de la Música de Villaverde has multiple stages, rest areas and gastronomic areas, all designed to provide the best possible experience for attendees. In addition, its strategic location makes it easy to access the festival, either by public transport or by car, ensuring a smooth and comfortable arrival. The vibrant and cosmopolitan environment of Madrid will merge with the magic of Mad Cool Festival, creating a unique and exciting atmosphere for all music fans attending this unmissable event.
It will be the sixth edition of an event that mixes rock, pop, electronic and indie music.
Who is playing at Mad Cool Festival 2023?
These are the confirmed artists:
RED HOT CHILI PEPPERS, THE BLACK KEYS, LIZZO, THE 1975, RINA SAWAYAMA, ROBBIE WILLIAMS, QUEENS OF THE STONE AGE, NOVA TWINS, LIL NAS X, FRANZ FERDINAND, TASH SULTANA, PAOLO NUTINI, DELAPORTE, THE BLESSED MADONNA, LIAM GALLAGHER, THE PRODIGY… first confirmed for the sixth edition of Mad Cool Festival.
The announced line-up consists of 53 bands, to which will be added new names that Mad Cool Festival will be revealing over the coming months.
What is the line-up for Mad Cool Festival 2023?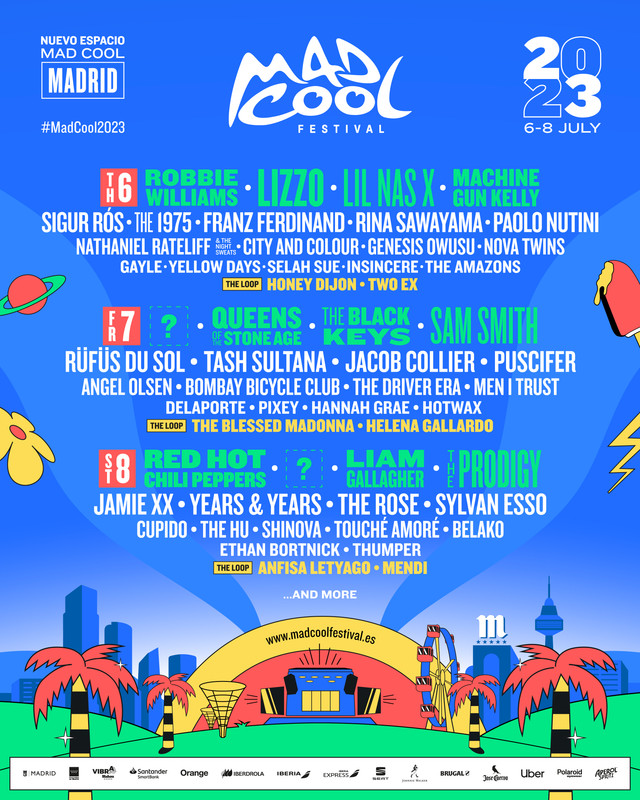 What are the prices of the season tickets?
With wristband delivery to mainland Spain, Balearic Islands, Canary Islands, Ceuta and Melilla:
Regular Season Ticket – 195€ + booking fee. VIP Season Ticket – €480 + booking fee. With wristband delivery to European countries*:
Standard Event Pass – 199€ + booking fee. VIP Pass – €490 + booking fee.
*The countries in Europe to which we ship the wristband are: Portugal, France, Italy, Germany, United Kingdom, Switzerland, Belgium, Luxembourg, Netherlands, Austria, Ireland, Sweden, Finland, Denmark, Czech Republic, Poland, Romania, Hungary, Slovenia, Bulgaria, Croatia, Slovakia, Estonia, Lithuania, Latvia, Norway, Greece and Serbia.
Without delivery of the wristband (countries outside Europe):
Regular Season Ticket – €195 + booking fee. VIP Pass – €480 + booking fee.
How to get to Mad Cool festival?
This area of the capital can be reached mainly by suburban train. Line C3 at the San Cristóbal Industrial stop.
Although you can also get there by metro on line 3 (Villaverde Alto stop) and line 12 of the Madrid metro (Los Espartales stop).
Where to sleep in Madrid during Mad Cool Festival?
If you want to live the full experience our recommendation is that you stay in Gran Vía, the street of Madrid that never sleeps with direct access to the metro line 3 that will take you directly to the festival without the need to change trains.
In SmartRental we give you different options of holiday flats where you can sleep with the rest of your friends who come to Mad Cool. You can see all the flats we offer in Madrid by clicking here.
If you prefer luxury, we recommend SmartRental Collection Centric. With views of Callao and rooftop terrace.
If you opt for a more economical option in SmartRental Gran Vía 47, you can get holiday flats at a better price.