Lights in Madrid Rio 2017: A star falls in Madrid
Come to Madrid Rio and let yourself fall in love with the lights of paper lanterns and celebrate the winter solstice in a different way, do you want to know how? We are many people who are waiting for the night of December 21 to celebrate the winter solstice, the day when the night is longer, with fewer hours of sun, so it is a unique opportunity to enjoy it in a way different
What will you see at the Fiesta de la luz & Farolillos in Madrid Río?
A crowd of lanterns will light the joy and lights in Madrid Río in the surroundings of Puente del Rey and Puente de Segovia. A parade that attracts families and tourists to relive the history of each area during the ride and enjoy the colors at the end of this original activity, an activity where we can see the light reflected on the Manzanares River.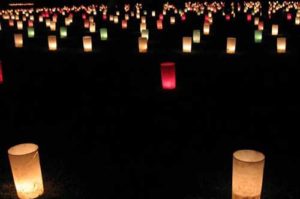 The parade will begin at 7:00 p.m. in the afternoon where all those who come for what is an activity that we recommend to family and friends, just one requirement, the lantern and lighting element.
And how will the day end? then we can enjoy a great fireworks show where the different colors and shapes will be mixed with the silhouette of the buildings
More Information
Where: Madrid Río, between Puente del Rey and Puente de Segovia
Dates: December 21, starting at 7:00 p.m., will begin with the parade, launch of lanterns and fireworks
Route: You can check the route of the parade and where to enjoy the fireworks recorrido_pasacallesdeluz_2017
Where to stay to enjoy this show? We recommend SmartRentals Delicias , a scarce 500 meters from the Matadero