Atocha Station in Madrid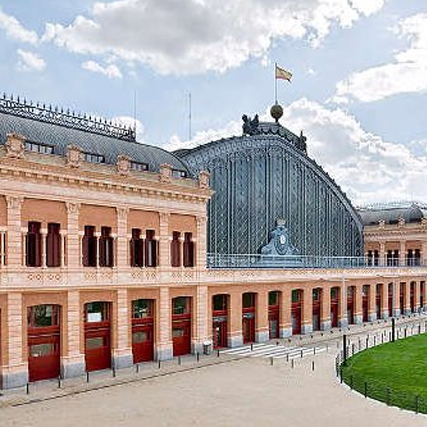 Madrid's Atocha Station is much more than just a departure and arrival point for travellers. It is an iconic transport hub that has undergone an impressive transformation over the years. From its historic architecture to its commitment to sustainability, Atocha offers a unique experience that deserves to be explored and celebrated. In this article, we will explore the history, beauty and highlights of this iconic Madrid train station.
History and architecture
Atocha Station has a rich history dating back to the 19th century, when it first opened in 1851. Originally conceived as a railway station, it has witnessed the evolution of rail transport in Spain and has played an important role in its development.
One of the most impressive features of the station is its architecture. The old station, designed by Alberto de Palacio, is a magnificent example of 19th century iron architecture. Its spectacular central nave, with an impressive metal structure, creates a unique atmosphere and evokes a sense of grandeur that leaves a lasting impression on all visitors.
The Atocha Tropical Garden
One of Atocha's best kept treasures is its Tropical Garden, an oasis of calm and beauty amidst the hustle and bustle of the station. This botanical greenhouse is home to an impressive variety of tropical and subtropical plants, as well as turtles and fish. It is a perfect place to relax before your trip or to enjoy a quiet moment in the middle of the city.
How many floors does Atocha Station have?
The iron structure and glass roof protecting the station platforms allowed it to be adapted as a greenhouse with ponds. This garden, which covers 4,000 square metres, is home to more than 7,000 plants of 260 different species, originating from America, Asia and Australia.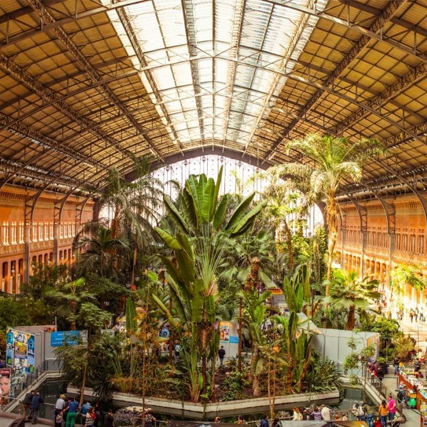 Commitment to sustainability
Atocha Station has demonstrated a strong commitment to sustainability over the years. In 2008, an impressive underground waiting room was inaugurated with green roofs and a series of solar panels on its surface. These installations contribute significantly to reducing the station's energy consumption and carbon emissions.
In addition, Atocha has become a reference point for the use of public transport in Madrid. The station is perfectly connected to the city's metro system and has a wealth of sustainable transport options, such as bicycle rental and car-sharing services. This makes it easier than ever for commuters to opt for environmentally friendly modes of transport.
Gastronomy and shopping
Atocha also offers a wide range of dining and shopping options. From restaurants and bars to fashion and souvenir shops, the station has something for everyone. Whether you're looking for a quick bite to eat before your train or want to do some last minute shopping, Atocha has everything you need.
What is the style of Atocha Station?
Madrid's Atocha Station is a magnificent example of iron and glass architecture, which is part of the architectural style known as "Arquitectura del Hierro". This architectural style, which flourished in the 19th century, is characterised by the use of wrought iron structures and large areas of glass in the construction of buildings.
The original design of Atocha Station, inaugurated in 1851, was the work of the architect Alberto de Palacio, and is in the historicist architectural style of the time, with clear neoclassical influences. The central nave of the station is an impressive iron and glass space that creates a bright and spacious atmosphere. This design was not only aesthetically striking, but also allowed more natural light to enter, which was important in a railway station.
The station also features decorative elements and architectural details that give it a distinctive character, such as the stained glass windows and the elegant wrought iron columns that support the structure.
In short, Madrid's Atocha Station stands out for its architectural style of iron and glass, which is representative of 19th century Iron Architecture, and combines neoclassical elements with a feeling of spaciousness and luminosity thanks to its innovative design.
When was Atocha built?
Madrid's Atocha Station was built in several stages throughout its history, making it a railway complex with an interesting architectural evolution. The original station was inaugurated in 1851, but has undergone several extensions and renovations over the years.
The oldest and most emblematic part of the station is the iron and glass central nave, which was designed by the architect Alberto de Palacio and completed in 1888. This central nave is one of the most recognisable features of the station and is a magnificent example of 19th century iron architecture.
Over time, expansions and improvements have been made to the station to adapt to the changing needs of rail and passenger transport. For example, in the 1990s, a new underground high-speed (AVE) terminal was built adjacent to the original station to accommodate high-speed trains connecting Madrid to other cities in Spain.
In short, Madrid's Atocha Station has a construction history dating back to the 1850s, but has undergone several extensions and renovations over the years to become the complete and modern train station it is today.
Who made the Atocha Heads?
The "Cabezas de Atocha" is a sculptural work created by the artist Antonio López García. This art installation is located in the Plaza Emperador Carlos V, just in front of Atocha Station in Madrid. The work was inaugurated in 2000 and consists of three large-scale bronze heads.
The heads are hyper-realistic portraits of three people who were known to the artist and who used to frequent the train station. Antonio López García is famous for his hyperrealist style, which is characterised by the detailed and accurate representation of reality. These sculptures are a tribute to the ordinary people who cross paths in everyday life and who often go unnoticed.
The "Cabezas de Atocha" are an artistic expression that reflects Antonio López García's attention to detail and his ability to capture the essence of urban life in Madrid. These sculptures have become an iconic and cherished feature of the Plaza Emperador Carlos V and are an integral part of the cultural experience in the Atocha Station area.
Madrid's Atocha Station is much more than just a train station. It is a place full of history, beauty and commitment to sustainability. Whether you're passing through or have time to explore, we recommend you take a moment to appreciate all that Atocha has to offer. From its stunning architecture to its Tropical Garden and its focus on sustainability, this station is truly unique and deserves to be admired and enjoyed by all who visit.
Where to sleep next to Atocha station?
If you want to sleep a few steps away from Atocha station, SmartRental offers you our network of fully refurbished holiday flats in SmartRental Reina Sofia.
Do you need more information? Contact us at:
Or book online here