zarzuela racecourse, starts the season 2018
A late afternoon horse racing at the Zarzuela Racecourse is much more than just seeing These precious animals compete with each other to see who is the fasmagazine. A mixture of gatronomy, bets, emotions, fashion and activities for the little ones, do you want to know more?
Zarzuela Racecourse, a day at the races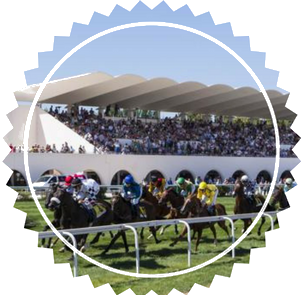 We are facing a racetrack with more than 70 years. It is in this 2018 when the racetrack of the Zarzuela celebrates its 77 years since its inauguration in 1941. Next to El Pardo, its grandstands are cataloged as Historic Artistic Monument .
On March 4 begins the season 2018 without interruptions until the special day of Christmas on December 22. For its inauguration, a special day was created on March 5. The days that pass in spring and autumn will have 6 or 7 races, while in summer and winter they will only have 5 or 3 races.
The different races have a price for all budgets, but if you want to enjoy a VIP experience we recommend you to buy Club Carudel tickets, a particular view of the races from the VIP room and terrace, an exclusive place where a Dress Code is imposed. that we could define as soft. In addition, within the Racetrack of the Zarzuela, the smallest will not have to pay entrance.
During the events, you can enjoy different culinary offerings every Sunday thanks to the food trucks that you put at your disposal in the Hippodrome. In addition to outdoor concerts and activities for children, which allows you to find the perfect leisure in the space of Hipódromo de la Zarzuela.
What are the race schedules for the 2018 season?
There are two types of races, those held on the grass track in the morning and those held on the fiber track, exclusively for night races.
Attend the next appointment, the morning races are held every Sunday on the grass court:
Between March 4 and July 1
Between September 16 and December 2

 
And at night time on fiber track:
From July 5 to September 6 will be played on Thursdays
The special day with which the season ends, as we have indicated, on Saturday December 22 will be in the morning, being the only difference. When is the Madrid Grand Prix celebrated? strong> I will have to wait until July 1, 2018 to see one of the great races, until that moment, are you ready to enjoy the excitement that Does the racing involve?
More information:
Consult all the information on website: Zarzuela Racecourse, Madrid