The best plazas and terraces in Chueca
In the centre of this neighbourhood you can find Plaza de Chueca, just next to the metro exit with the same name, place of reunion for all types of publics: Families, elderly people, friends, couples… In these months of good weather, bars lay the tables outside on the street and there's more ambience than ever. Please find below the best squares and terraces in Chueca to make the most out of the good weather:
Amazing tapas in the rooftop terrace of Cocina de San Antón (Calle Augusto Figueroa, 24, Mercado de san Antón, 3º rd floor).
In the attic of Mercado de San Antón, in the heart of Chueca, you can enjoy    this amazing crystal space with two terraces: one covered and the other open-   air. The menu, centred around the market food, stands out for their premium          products. A perfect plan.
Bosco de Lobos, Italian food in an amazing garden in the centre (Calle Hortaleza, 63)
In the Terrace of the Architect School of Madrid, you can find the bar, centre of reunion, place for after work and much more. A green space in the centre of Madrid with a great deal of charm.
Lady Madonna, an amazing brunch (Calle Orellana, 6)
Spring starts when Lady Madonna opens the terrace. A small corner in the neighbourhood where you can enjoy the best gastronomic proposals. They renew their menu every summer to offer the freshest and delicious products. And on Saturdays and Sundays you can't miss the brunch for 18€!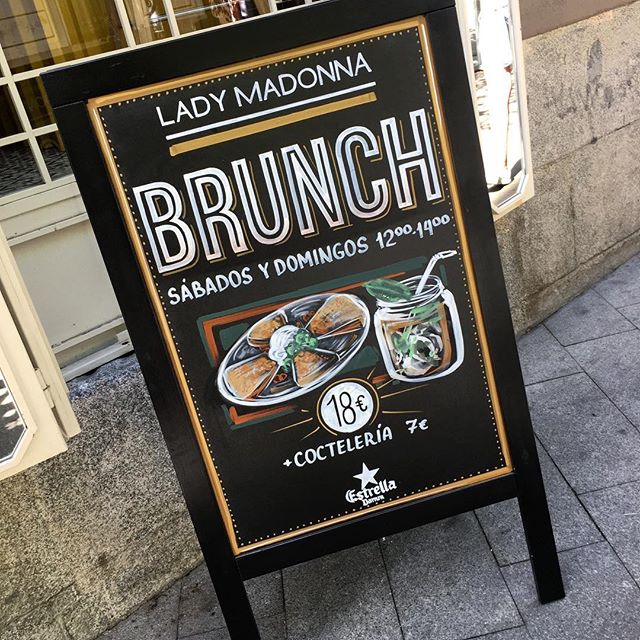 La Tita Rivera, tapas from Galicia in a charming patio (Calle Pérez Galdós, 4):
100% products brought from Galicia: Estrella Galicia, dishes with their famous "tins" ("latitas"), flavoured cider, delicious cakes… La Tita Rivera has it all: Good food, affordable price and a good ambiance. The best thing is you can go to have breakfast, eat tapas, snack or have dinner, because it's open all day! The hidden patio will surely captivate you.
A cocktail with great views in Gymage Terrace (Calle de La Luna, 2)
Enjoy one of the best sunsets in Madrid from the rooftop of Gymage Lounge Resort while having a tasty mojito in one of their sunbeds. With a very original minimalist design, this is the place to be for the it people in the neighbourhood.
In addition to all these suggestions, you can find a huge variety terraces in the surroundings of the busiest plazas of the neighbourhood: La Plaza de Chueca, La Plaza del Rey and Plaza Vázquez de Mella
Long live Chueca and its terraces!