Shopping guide in Chueca
The Chueca neighbourhood has turned into an unavoidable stop for shopping enthusiasts. Some know it as Madrid's Soho. Locals and tourists go through the shops to buy souvenirs, clothes, books or even erotic toys. Here you can find a bit of everything!
In this post we would like to tell you about the best shops so you don't miss out on anything.
Fuencarral street, paradise for youth fashion
This street begins in Gran Vía and goes all the way up to Glorieta de Quevedo, in Chamberí's neighbourhood. In this street, one of the busiest streets of the city, you can find clothes for youngsters from alternative designers next to more renowned brands such as Diesel, Levis or sport brands (Adidas, Puma…)
You will also find the most important cosmetic shops (L'Oreal, Kiko, Mac), home accessories and many other things.
Augusto Figueroa: Shoes, shoes and more shoes!
You will find cut-price shops where you can find shoes of many brands. If you're looking for the best deals in any type of shoe, from the most alternative ones to the more commercial choice, this is your street.
Hortaleza street, for the LGBT public
With many stores aimed at the most daring LGBT sector. Here you can find the sexiest fashion, you can visit a sex shop, or a specialized library like Berkana, with a clear homosexual theme.
The most original shops in the Chueca neighbourhood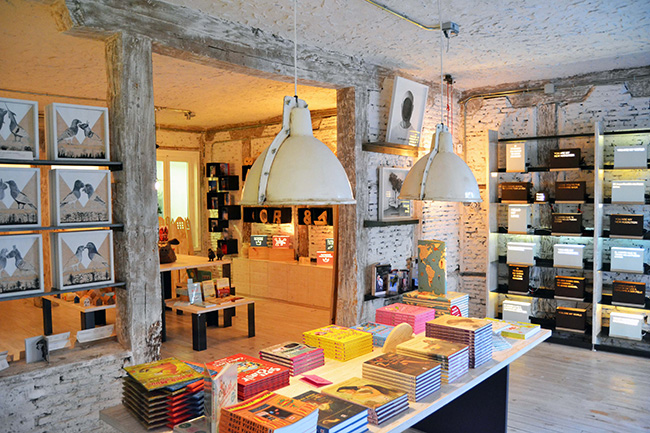 LottaVintage (C/Hernán Cortés, 9): A vintage clothing shop from the 50's, 60's, 70's and 80's. Handbags, shoes, accessories… You can find great stuff at a more than reasonable price. Its decoration will charm you
El Tintero (C/ Gravina, 5): This fun store sells original shirts, with humoristic and ironic messages for all publics. All the clothes are made with 100% organic cotton and all the ink is PVC-free
Energía Positiva Siglo XXI (c/ Gravina, 14): Soulful decoration store. They sell lamps with illuminates messages that will fill your house with positive energy.
Macchinine (C/ Barquillo, 7): A cosy toy shop that specializes in vintage items and small-scale cars.