Planetarium of Madrid, reopening
Planetarium of Madrid, finally opens its doors. A reopening suitable for all those who have dreamed of seeing the stars closer, understand the distance between planets and know a little more what surrounds us.
The Madrid Planetarium reopens
Inaugurated in 1986, the Madrid planetarium has been endowed with a great technological renovation, it has meant an investment of 4.2 million euros. More than 5 and a half million visitors have already visited it.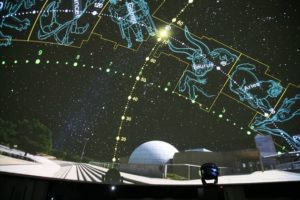 A visit for the children to enjoy, since in the ground floor of the Planetarium, in the room of astronomers, a ball of the world shows the temperature in real time in different countries. It is part of the climate change exhibition.
Discover the exhibition "Our Place in the Universe", a tour of the Universe from the closest to the most distant or the colors of the Universe in the exhibition "The Colors of the Deep Sky"
This reopening is complemented by conferences, public observations with telescopes and children's workshops Small astronomers 2.0 and Camino al Sol, an introductory course in astronomy.
More information:
Where: Planetario de Madrid
Address Avenida del Planetario 16. Metro Legazpi
Schedules and rates All the information in your web a