Madrid Producers, a fair to discover quality
A few meters from our Madrid SmartRentals Delicias building, in the Plaza Matadero in Madrid, Madrid Productores is celebrated, where more than 90 producers of the food of the Community of Madrid come together to show their products to all audiences. A mixture of smells and flavors that you will enjoy among friends and family. You want to know more?
Madrid Productores, a return to traditional flavors
Go back to the flavors of all life, an unmissable appointment with lovers of quality. Discover first hand the quality of the vegetables, the smell and the color of the meat, or melt because of the cheese and madrid olive producers. We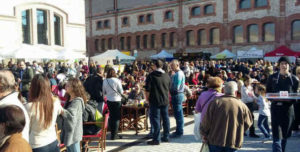 recommend you bet on Vermouth, a drink that makes perfect the visit to this event if the weather is right. We love the proximity market, which is why we love the objective of this event. With this initiative, the aim is to promote the market of all life, showing the different options of local farmers in the community of Madrid
And if you still want more, this whole event will be accompanied by talks and tastings on different products, food and food to know the benefits of a better diet and how to get it. You can also enjoy a large area to eat with your family, no matter what your choice when choosing a menu, they offer you an area of ​​tables and chairs so that after being there all day, you feel and relax.
Without a doubt it is a great option, as we have already indicated, to spend a great day, enjoying the local products and the great walk of Madrid Río.
Have you ever gone to these shows? Do you tell us how the experience has been?
More information about Madrid Producers:
When: January 27 and 28
Where: Plaza del Matadero
More info: On the website Madrid Productores
If you want to enjoy the experience of Madrid Producers we recommend Smartrentals Delicias