Mad Cool 2018, do you have everything ready to go to the festival?
This year marks the 3rd edition of the Mad Cool festival, during this time it has made a hole for its own merits: concerts with prestigious headliners, installations … all for an unforgettable experience with the best groups of the moment
Mad Cool 2018, dicover the bands
Depech Mode, Franz Ferdinand, Alice in Chains, Snow Patrol, I Have It, At the Drive In, Black Rebel Motorcycle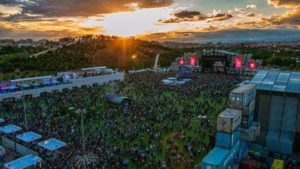 Club or Justice are some of the names that already sound for this edition of Mad Cool. A festival where different styles come together to create the best atmosphere.
In addition to a lot of live music in its different formats (the big and small stages) the festival is committed to the use of new technologies, such as the bracelet and synchronized app to make your payments and forget your wallet, if you get hungry between concert and concierno do not forget to visit their stalls with food that will make your mouth water, for the most demanding you can see live performances and performance that will leave you speechless
Mad Cool 2018, on the hunt for a 3-day pass
Are you one of the lucky ones who got one of the three-day passes? Exhausted for 1 week, the tickets have flown this year and there is only the option of day to day, if you have not hurried, the Mad Cool will be a little more expensive, but it will be worth it.
More information about the Mad Cool
Days: From July 12 to 14
Where: Mad Cool Space
Available: 3 DAYS VIP PAYMENT, 1 DAY TICKET, 1 VIP DAY TICKET
More information: On the website of  Mad Cool
Accommodation for the Mad Cool
If you want to enjoy Madrid with your friends, in addition to the festival, we recommend SmartRentals and its different tourist apartment buildings designed for groups. We have chosen the best ones to make your experience unforgettable.
Save 10% on your reservation now