Japan Weekend in Madrid 2018
Japan Weekend in Madrid is the most important event in the city for lovers of manga, anime and the latest releases in videogames, this event brings you all the Japanese culture to Madrid, in addition to a host of activities that you should not miss to discover a little of the country of the rising sun.
Japan Weekend in Madrid, new appointment this 2018
This new edition will bring together activities such as catwalk and cosplay contests including a section of children's cosplay, concerts, workshops and dressers so you can fit comfortably in the enclosure itself, standsjapan weekend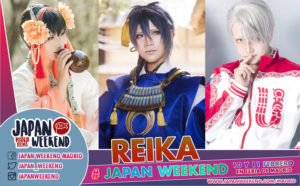 madrid merchandising, many roles and videogames. You can also meet your favorite designers and discover the creative process
This year, the event will feature the participation of Reika (cosplayer of international fame who achieved fame with his characterizations of characters such as Levi (Shingeki no Kyojin), Ren Jinguuji (Uta no Prince-sama) or Barnaby Brooks Jr. (TIGER & BUNNY) as shown on the event website) the Tempura KIDZ concerts, or the musical duet Deadlift Lolita (Ladybeard and Reika Saiki)
We will have the opportunity to discover cosplay photo exhibitions and a karaoke contest!
For Cosplayers
We can enjoy the Japan Weekend Cosplay Show, the Yamato Cosplay Cup and the International Cosplay League (in pairs) on Saturday, February 10, it will be on Sunday when the International Cosplay League is held in individual format
On Sunday, February 11, the V Japan Weekend Idol Festival will be held, and since we have already advanced the Children's Cosplay Contest (which we love!) And the Cosplay Catwalk as a broach to all these activities, the Japan Weekend 2018 includes a contest at a State of imitation of musical groups like JPOP, KPOP and MPOP, X Asian Cover Dance …
More information about Japan Weekend in Madrid 
When: February 10-11, 2018
Where: Ifema, see how to get here
More information: You can have more info on your website
Are you looking for accommodation for the Japan Weekend 2018?
If you are looking for accommodation for the Japan Weekend in Madrid 2018 we recommend SmartRentals Madrid, tourist apartments perfect for traveling in groups with your friends, enjoy the space you need for your suits and weapons. Book now and get a 10% discount on your reservation: