[UPDATE] Harry Potter The exhibition in Madrid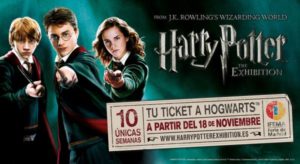 More than 1,400 square meters dedicated to the Harry Potter universe. An exhibition dedicated to the young magician and his story arrives in Madrid (in Ifema) on November 18th.
Harry Potter the Exhibition lands in Madrid as the only Spanish city on his tour through cities such as Boston, Seattle, New York, Sydney, Singapore, Tokyo, Paris, Brussels …
We can enjoy costumes, costumes, creatures, sets, characters from the saga and a tour of the most recognizable and famous scenes through the common room or the Gryffindor Bedroom … Would you like to play Quidditch or extract Mandrágora ? Now it is possible, the exhibition has an interactive area so that the smaller (and not so small) diffruten of the magic. Audioguides also include information for the most demanding.
More details
Where: IFEMA
When: From November 18,to april 2.
Buy Tickets: http://www.ticketea.com/entradas-harry-potter-exhibition-madrid/
Book now!
If you want to come to discover the world of Harry Potter with your family, we recommend that you do not miss the opportunity to book in Madrid SmartRentals, an apartment for 1-4 people ideal to spend with your family an incomparable experience.
Click on the Banner and get a 10% on your non-refundable reservation