Guide to go out for tapas in la Latina
Spanish gastronomy, leisure, friend reunions and weekend plans in Madrid would be very different without that great invention called tapa. Going out to have a few drinks with some friends and, with every order, trying several little dishes is a great way to enjoy your day.
Now that the local holiday of May is around the corner, we want to show you our guide to go out for tapas in one of the best neighbourhoods to do so: La Latina.
Beginning the day
Any day of this long weekend in Madrid is highly recommendable to go out for some tapas in La Latina. On Saturdays and specially on Sundays this neighbourhood gets crowded with people in its bars and terraces.
This is why we suggest you go with some time to get a place to sit, at least in your first stop. After this one, you will have to be patient to get a place in any other bar, as you have to be quick to be the one to sit when somebody leaves.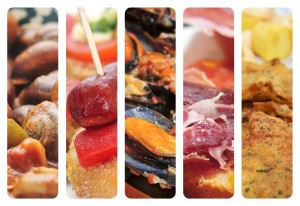 Tapas bars in La Latina
The ideal thing to do when you go out for tapas is not to stay in one single place, like that you can try different things in every bar. This is our own list:
Tximiri: this basque restaurant is located in the 6th of the Humilladero street. It's famous for its tortilla de patatas.
Arganzuela: This very typical tavern, on the 3rd of Arganzuela, is well known for its cazón en Adobo (a fish speciality of the Andalusian cuisine)
El Sobrino de Botín: First opened on the year 1725, this restaurant still holds the honour of being recognised by the Guiness World Record Book as the oldest active restaurant in the world. Try here its piglet.
El Almendro 13: You can't miss it; the name is exactly where it is. Taste the fried eggs and the cazuelitas.
Bar Muñiz: this pub located in calleCalatrava 3 has one of the best traditional Spanish grilled pork ear. Also try here the croquetas.
If you need some more suggestions, try Casa Dani or La Paloma, two emblematic tapas bars in the La Latina area.
If you need a place to recover from your gastronomic excursions in La Latina, we offer you the best accommodation. Ourtouristic apartments in the centre of Madrid are located in the best spots of the capital: Atocha, Gran Vía, Chueca and Fuencarral. Ask us for all the information you need and book right away.