Gastrofestival 2018 – For lovers of flavors
The ninth edition of the Gastrofestival 2018 arrives in Madrid, the capital is filled with new flavors that will delight our senses. An appointment for demanding palates that responds to their needs through 450 establishments and institutions. From January 20 to February 4 (15 days) Madrid is filled with different culinary offerings with culinary routes, cooking courses, menus for the occasion …
What is the GASTROFESTIVAL 2018?
In this new edition, we will have different options in restaurants and bars throughout the city, such as Degustatapas or Our Favorite Bars with a Rioja. As it can not be less, this year repeats the option for coeliacs with special menus adapted to their needs.
This year's program contains 6 blocks: GASTROFESTIVAL 2018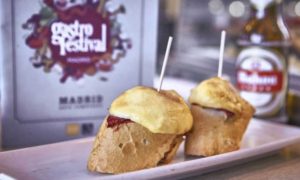 Madrid Gastronómico
Gastroculture
Sensory Experiences
Gastrofashion
Enoculture
Gastrosalud
Within these activities, in the Conde Duque Cultural Center we can enjoy the tasting proposals of cheeses and wines during the BarrocoGlam, cheese & wine or Fight of Roosters.
To this appointment they have wanted to add institutions of Madrid, like The Museum of Decorative Arts that will organize a guided visit to their Valencian kitchens where we will know firsthand everything that the kitchen entails. This visit includes a chocolate tasting of San Ginés, very suitable for all the sweet tooth.
Claim the sandwich and the traditional markets of Madrid
In the 2018 Gastrofetival it premieres Gastrobocatas , it was time to reclaim the sandwich in a different way, these activities are within Madrid Gastronómico, offering perfect combinations, such as El Porrón Canalla sandwiches, by chef Juanjo López, and creations by John Barrita, designed by Javi Estévez with bread from La Panotheca.
In our traditional and modern markets such as Antón Martín , Barceló , Mercado de la Paz , Mercado de los Mostenses , from San Enrique or the one of Tirso de Molina we will have the opportunity to enjoy gastronomic workshops and creations in shape of tapas, as well as faces and tastings.
Also, in this edition of Gastrofestival 2018
Enjoy a photographic exhibition, discover Chef to Face on the roof of the Círculo de Bellas Artes, an exhibition by Roberto Ranero where we can contemplate portraits of chefs in their midst, the kitchen being of any kind.
In this new edition of the Gastrofestival 2018 a solidarity action has been joined by Gastrofestival Solidario, aimed at people with fewer resources. Within the Gastrofashion block, GastroDeco debuts where we find proposals such as the Food & Crafts workshop, with the innovative interpretation of architectural tapas, an event organized by the Official College of Architects of Madrid.
More information about Gastrofestival 2018:
Dates: from January 20 to February 4, 2018
Where: Degustatapas , click here to see the bars
Where: Our Favorite Bars with a Rioja is made in the following bars, click here

Information about the Gastrofestival Madrid Blocks
You can find all the information on the Gastrofestival Madrid websiteIf you are looking for a place to stay to enjoy the Gastrofestival Madrid, we recommend the apartments of SmartRental Puerta del Sol or SmartRental Chueca II , book now 10% cheaper on our website by clicking here.