Tour of Churros and hot chocolate to forget the cold!
Only until January 7 to enjoy this route!
For lovers of parties and churros, they will love the tribute that Baileys has wanted to offer to all the most traditional chocolate shops in Madrid, creating a route that over 18 years old can enjoy a unique blend, the bitter chocolate with the sweetness and the perfect alcohol touch of the delicious cream.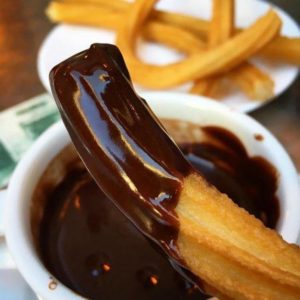 The I Baileys del Chocolate Route arrives with Churros, where the churrerías and chocolate shops that are part of this tour are the following:
 

San Ginés (Pasadizo de San Ginés, 5)

Las Farolas (Calle Mayor 11)

Chocolat Madrid (Calle Santa María 30)

La Austríaca (Calle San Onofre 3)

La Encarnita (Calle de Menéndez Valdes, 45)

La Mejor (Calle Divino Pastor 3)

Churrería Madrid 1883 (Calle Espíritu Santo)

Rocamar

 (Calle Santa Engracia, 93)

Mayoma (Calle de Fransico Silvela. 67)
And as we know that more than one wants to maintain the good intentions of this 2018 or for those who meet the goals of the new year to the letter, there are the delicious and healthy breakfasts of coffee shops such as Cafelito, Bye Bye Sugar and Celicioso.
Remember, you only have until January 7 to enjoy this mixture, are you able to try each and every one of the churrerías and chocolaterías that we have mentioned?