Be one more in the neighbourhood – Sol: How puerta del Sol has changed
If you ask anybody for the most famous or emblematic place in Madrid, they will surely tell you Puerta del Sol. It's unique for its location right in the centre of the country (here you can find since 1950 the so-called Kilometre Cero), its famous watch-clock from the 19th Century (with which the majority of Spaniards eat the traditional 12 grapes in New Year's Eve) and its historical importance. Puerta del Sol has been a point of encounter and of political concentrations since long ago: 1st of May, Second Republic, entry of Franco's armed forces, 15-M…
This icon in Madrid has changed and evolved throughout the years as the city has, just until the image we nowadays know.
Puerta del Sol's origins
Puerta del Sol, was originally one of the entries of the wall that surrounded the city in the 15th Century, and separated the city centre with the suburbs. Its name comes from a sun that decorated the entry and that had been put there for its orientation to the East. It was an important meeting point for locals, because here you could find important constructions such as the Iglesia del BuenSuceso, San Felipe, El Real, or Las gradas de San Felipe(the most famous gossip mill in town).
In 1766 Jaime Marquet started to build the well-known Casa de Correos, the oldest building in Puerta del Sol and nowadays the headquartersof the Presidency of the Community of Madrid. In 1847 it passed to be the main office of the Governing Ministry, moment when they decide to build some houses in the area to highlight the building, leading to the creation of this big square.
In 1959 it would be once again reformed incorporating in its centre a green area with fountains. 30 years later it was broadened and its pedestrian area improved.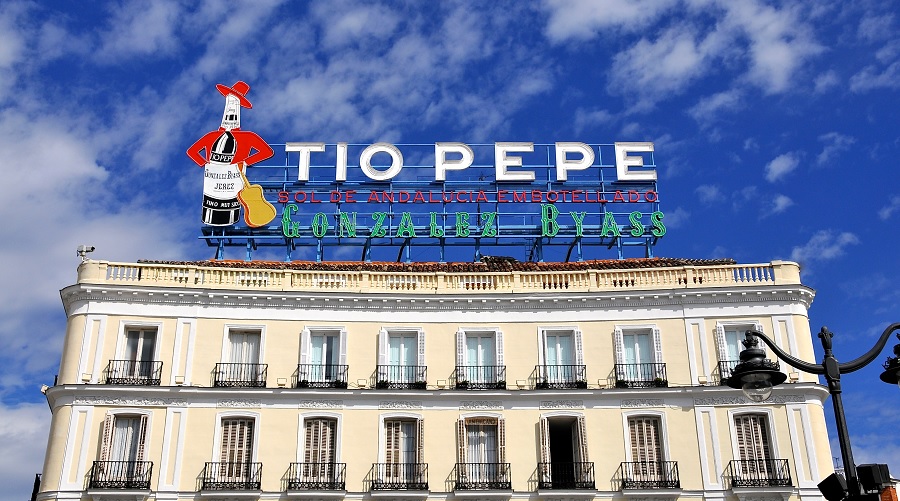 The neon sign of the Tío Pepe wines was installed 1935 and the famous statue of the Bear and the arbutus (Oso y el Madroño) was erected on 1967, in front of the building of the old Paris Hotel. The equestrian statue of Charles III of Spain is more modern, from 1194.
From the traditional shops we don't have much left. Although you can find, of course, the centenary bakery named La Mallorquina, that offers delicious local pastries since 1894.