Be local –Sol: the Violet sweets
In 1915 in a small bakery in the historical Plaza de Canalejas called "La Violeta", a little sweet with the shape of a flower of five petals was born, and would turn into an icon of the city of Madrid.
The violet sweets, those with which so many locals remember their childhoods, are made with sugar and the essence of this flower. This is a traditional candy, that has never gone out of fashion or been in crisis. Not even in the Civil War, when the sugar lacked, did "La Violeta" close its doors. A business that has passed on through generations and is nowadays managed by María and Mónica, granddaughters of the founder, Mariano Gil Fernández.
The Royalty's sweets
These sweets have had a great success since their origin. A wide-spread story amongst the locals tells us that the king Alfonso XIII bought these sweets both for his wife, the Queen Victoria Eugenia, and his lover, Carmen Ruiz de Monagas
It's also said that the previous Spanish King, Juan Carlos I, received violet sweets and chocolate Easter eggs from this bakery during his childhood in Estoril.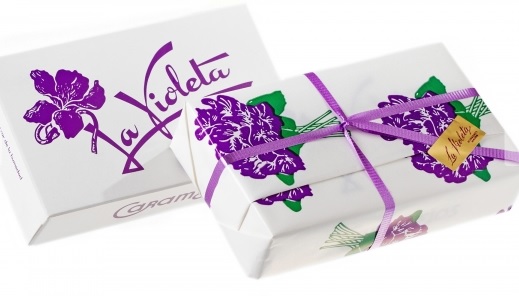 Many other well-known characters have been customers of this famous bakery, such as: José Millán-Astray or Carlos Valle Inclán, son of Don Ramón del Valle Inclán.
Nowadays, in addition to their loyal customers and tourists, other famous names buy in this shop, such as the actors Luis Merlo, Loles León or Emma Ozores.
If you're visiting Madrid and you would like to try something typical but also delicious, we recommend you go to "La Violeta", that still remains in its original location (Plaza de Canalejas, 6). In addition to the traditional sweets, you can find sugar coated violets (violet petals coated with sugar), violet tea, and beautiful gift-boxes to take back home with you.